Social Media - Facebook - Linkedin - Twitter - Youtube - Miami
Social media marketing, Networking Miami,Ft.lauderdale
Youtube, Facebook, Linkedin, Twitter ,Yelp ,Manta, Miami, Ft.Lauderdale
Lower your cost while increasing your ROI- Call now for a free consultation/proposal.
Social Media Marketing
New media has emerged as a gigantic part of the web landscape. Our consultants and analyst's staff members are constantly studying the social networking arena and looking for opportunities to use social media to increase our clients' website exposure. Social profiles on social networking sites improve your image, build your brand, and send more traffic to your website. We can create an optimization strategy that will work for you and your business, lowering your conventional marketing expenses and increasing your revenues. Services are performed or supervised by an MBA social media professional.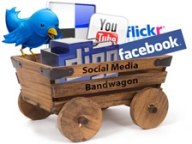 Business Consulting can help you manage, and train you and/or your staff to go viral in order to successfully compete and succeed in today's market.
At minimum, you should be taking advantage of social media and new media by using:
Facebook
Blogs
Website
Pay per Click
Press release
Podcasting
Networking
LinkedIn
Slide share
SEO
Google
Youtube
Bookmarking
MySpace
Twitter
Delicious
Constant contact
Event promotions
Email marketing
Craigslist
MeetUp
Social Media Benefits
Low barrier to entry
Low cost/ towering return
Better search engine rankings
Brand visibility and monitoring
Ability to reach your market directly
Targeted secondary traffic to your web site
Enhanced understanding of market issues
Levels the playing field for businesses large and small
You must educate your customers about the benefits of your product or services constantly sending email, press release, news letter, blogs, networking and others.

Do not hesitate to call us to arrange for a free evaluation of your Internet Marketing Resources and explain you our available packages.
Call now.